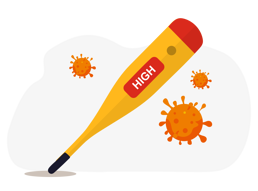 Related pages:
COVID-19 is an infection caused by a new virus in the coronavirus family called SARS CoV2. Children who catch this virus generally have a mild illness and many get no symptoms at all. However, occasionally they can be more severely affected. Symptoms include fever, cough, breathlessness, vomiting, diarrhoea, tiredness, headache, muscle aches and pains and a change in sense of smell or taste. Many other winter viruses cause similar symptoms in children.
Most children in Scotland no longer need a  test for COVID-19
It is not recommended that children and young people are tested for COVID-19 unless recommended by a Health Professional
Testing is available for patients at highest risk or to support clinical care (if you need to come into hospital for surgery or a procedure)
If your child is unwell and has a high fever they should stay at home. They can return to normal activities (including school and nursery) when their fever has settled and they feel well enough.
The Emergency Department of the Royal Hospital for Children is for children who are unwell enough to need our care. They need to be seen promptly and thoroughly; other services have been set up for children who have less severe illnesses.
Advice for parents/carers in Scotland of babies less than three months old during coronavirus