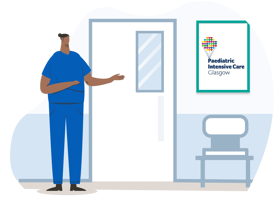 We are a large Unit with almost 150 permanent staff. Paediatric Critical Care Medicine involves individuals from many professions and disciplines. At the heart of the PICU is our team of nurses, doctors (Intensivists), allied health professionals (Pharmacists, Dieticians, Physiotherapists), auxiliary nursing and housekeeping staff.
The PICU team operates an open model of care and we have close links with the specialty teams within the Chidren's Hospital, in particular Cardiac Services, Medical Paediatrics, ENT Surgery, Renal Medicine, Neurosurgery, Neurology and Oncology.
PICU have their own website with a wealth of practical information for families and children staying in PICU.
How to get to PICU (Ward 1D)
Visiting and Accommodation
Our Daily Routine
Participate In Your Child's Care
Parents and carers: taking care of yourself
After PICU
Support, Coping & Aftercare